What to do, see, eat and drink in lake bled - A travel guide
Updated 2023 | Lake Bled is a breathtakingly beautiful lake to be found in the Julian Alps of Slovenia and can be referred to as the pearl of Slovenia. The turquoise waters, the picturesque island in the middle of the lake, the Lake Bled Castle with overlooking views of the lake, and its famous Bled cream cake, make it a true hidden gem in Europe. The lake is approximately 2,100 meters long and  1,380 meters wide, with a maximum depth of 30 meters. The best time to visit Lake Bled depends on your needs. The lake is ideal for swimming and boating and is therewith a perfect summer destination. However, in winter, you can find Lake Bled transforming into a winter wonderland and there might even be a chance to go ice skating on the lake. In this Lake Bled Travel Guide, I will tell you everything you need to know about your next visit to this stunning place in Slovenia, Lake Bled. For me, Lake Bled was the start of my 5-6 week trip, which you can find in my 5-6 week Balkan Itinerary.
- Travel Guide: How to get to Lake Bled? -
|| How to get to Lake Bled from LJubljana
Getting from Ljubljana to Lake Bled is very easy, as the two places are very close. The bus ride from Ljubljana to Lake Bled will cost approximately 1 hour and 20 minutes. Your best option is to travel with Alpetour, running a bus hourly. Arriva Slovenia (5 times a day) and Flixbus (daily) are other options. To make your life easier, there is an online booking tool available where you can easily search for your preferred bus trip. You can search and book your bus fares here.
Another option is to take a day tour from Ljubljana to visit Lake Bled, but Lake Bled is worth more travel time than that.
|| How to get to Lake Bled from LJubljana Airport
The bus is the easiest way to get to Lake Bled from Ljubljana Airport. You will find several bus stands at the airport exit, where you have to look for the right bus stop. There you will find a timetable. The executing travel operator is Arriva and their busses can also be found on Google Maps to plan your trip. The travel time by bus is approximately 30 minutes from the airport to the main bus stop "Bled Union". Therefore, heading straight to Lake Bled from the airport and visiting Ljubljana (check out my Ljubljana City Guide!) after Lake Bled is a great way to save time on your travels. Another option to travel from Ljubljana airport to Lake Bled is by taking a taxi. This will cost you approximately €50.
- BEST THINGS TO DO IN LAKE BLED, Travel Guide -
1 || STROLL AROUND THE BLED LAKE
A walk around the entire lake will last around 1 to 1,5 hours. You will have the opportunity to view the island in the middle of the lake from all sides and every side will impress you again. The walk around the island is approximately 6km long and is easy to walk. It is also possible to bike around the lake. There will be plenty of benches to have a rest and along the lake (mainly on the right side, when viewed from the Lake Bled village) there are multiple locations to buy yourself a refreshment. If you want, take your swimming gear too.
You can refresh yourself in the Lake at several locations. One of the most famous places for swimming in the lake is the so-called Castle Bathing Area (Grajsko kopalisce) which is located below the castle rock. The area is open from June to September to welcome swimmers to the lake. The complex has changing rooms available. Swimming in Lake Bled is however allowed anywhere at the lake at your own risk, which means you could also swim to Lake Bled Island, which is 3000 meters taking the shortest way. Make sure to pay good attention to the boat traffic though! We rested for a while at the Velika Zaka point, found on the furthest end of the lake. 
3 || RENT A BOAT AND PADDLE TO THE ISLAND IN LAKE BLeD
The church on the island to be found in the lake is a favorite to visit for many. You can rent a little rowboat yourself. These little boats can be found on both sides of the lake. On average you will pay €20 to rent a row boat at Lake Bled for one hour. Another option is to visit the island with the so-called platna, the traditional boats that will transfer visitors to the island. Generally, 18 visitors fit in one of these boats and you have to pay ~€15 for the return service. When you are on the island, you can climb the 99 steps to the top of the church and ring the bell to make a wish.
4 || Visit the ojstrica viewpoint for the best views on lake bled
Seeing the lake from above is something you can't miss when in Bled and visiting the viewpoint will guarantee you great pictures. The hike took us around 30 minutes and was rather easy to find. From near the road, there are signs of where to go. As the lake is surrounded by a beautiful forest and hills, the hike itself is also nice to do! We decided to visit the Ojstrica viewpoint, which is highlighted by the pin on the map above and the location where the photos in this Lake Bled Travel Guide are shot. Another viewpoint you could visit is the Mala Osojnica, which lies a little bit higher up.
5 || Visiting lake bled castle
On top of the hill, you'll find Bled Castle. From the castle, you have amazing views over the lake and it is a great opportunity to learn more about the history of Lake Bled and its surroundings. A visit to the castle currently (2023) costs €15 for adults. The latest information and prices can be found on their official website. 
As we were on a budget, we decided to not visit the castle, but we did enjoy the views of the castle (you have a great view from Pub Bled!). 
6 || Try the famous Bled Cream Cake At hotel park
Something you will only find in Bled is the famous Bled Cream Cake. We weren't able to finish the huge piece of cake we got, but it tasted well! You can never miss out on culture, especially not when culture equals sweets. If you want to go in for the full experience, you should have your Bled cream cake at Hotel Park. From stories, the most famous cake you can find at Hotel Park.
7 || TO DO AROUND LAKE BLED: HIKE TO AND THROUGH VINTGAR GORGE
This Lake Bled Travel guide reaches further than Bled, as there are amazing things to do and activities around Lake Bled as well. A great example of what you can't miss is paying a visit to Vintgar Gorge! Shuttle busses are going from the Lake Bled bus stop and there is a train running to Podham, which leaves a hike of 15 minutes to the entrance. However, if you are up for a little bit more adventure and an additional hike, I could highly recommend you to walk to Vintgar Gorge, which is a route of 6km. For us, getting there was almost the highlight of the full experience! Google Maps works perfectly. We took the road that starts behind Bled Castle. 
Vintgar Gorge is only open in the summer season and is generally open from April to October. You have to pay a small amount for parking a vehicle in case you bring one. The entree fee to Vintgar Gorge for an adult is €10. For the most up-to-date information, you can check out the official site of Vintgar Gorge.
Have a drink in one of the villages you pass on the way! Even though you just walk for a couple of km, you will be in a more remote and less touristic area, which gives a different experience. We had a drink in Podham.
8 || TO DO AROUND LAKE BLED: Lake bohinj
Lake Bohinj can be found 26 kilometers South West of Lake Bled and is the larger, but more quiet lake in the area. It is famous for its clear waters and amazing surroundings. Unfortunately, we didn't have enough time to also stop at Lake Bohinj, but I would highly recommend you to do so in case you have the time. You can also visit Lake Bohinj on a day trip from Lake Bled or with a tour covering the Triglav National Park.
- Best bars and restaurants in lake bled -
One of the most famous restaurants around Lake Bled is Pizzeria Rustika. Pizzas are delicious, and the toppings might interest you, as we had the infamous nacho cheese pizza. Sounds horrific, but tasted very good. If you want to be sure of a spot, pop by in the afternoon to make a reservation for the evening. Enjoy your pizza on the nice outside terrace. 
This is one of the other restaurants we visited during our trip. We were looking for a more local restaurant, specializing in Slovenian dishes. So, the main thing to expect here are dishes based on fish and meat. The great thing, especially in summer, is that they have both an inside and outside dining area available.
3 || hotel park or vila preseren for the bled cream cake
As already mentioned, something you will only find in Bled is the famous Bled Cream Cake. From stories, the most famous cake you can find at Hotel Park. However, we consumed the cream cake at Vila Preseren, a hotel with a cafe with lake views.
Even though Bled isn't a major nightlife or bar location, you shouldn't underestimate the town. They even have bar crawls organized. Pub Bled was our favorite place for after-dinner drinks as you have a perfect view of the lake and Bled Castle, which is especially great when the sun is setting. 
To complete this part of the Lake Bled Travel Guide, I will provide you with some other bars and restaurants I haven't been to but seem worth visiting. Examples are the Garden Restaurant (Part of the Garden Village Resort), Finefood Berc, Art Cafe Bar and Old Cellar Bled (even though they sound more like bars, they offer food too).
- The best hotels and apartments in lake bled -
Unfortunately, the lovely place in Bled where we stayed is permanently closed. Fortunately, there are enough alternatives available that offer you great places to stay in (lake) Bled! My advice in this Lake Bled Travel Guide would be to book early, as the destination becomes increasingly popular and places sell out relatively quickly.
Garden Village Bled is an amazing place and I would hope to stay here once. They offer glamping facilities including a jacuzzi! Such an amazing experience. You have to book very early as the place is sold out most of the time. Prices range on average between €150 and €250.
Next to eating the famous Bled Cream Cake in Hotel Park Lake Bled, they also offer nice hotel rooms and an amazing hotel design, including a swimming pool. They offer rooms with a view of the lake! The price for a room for a night is around €250.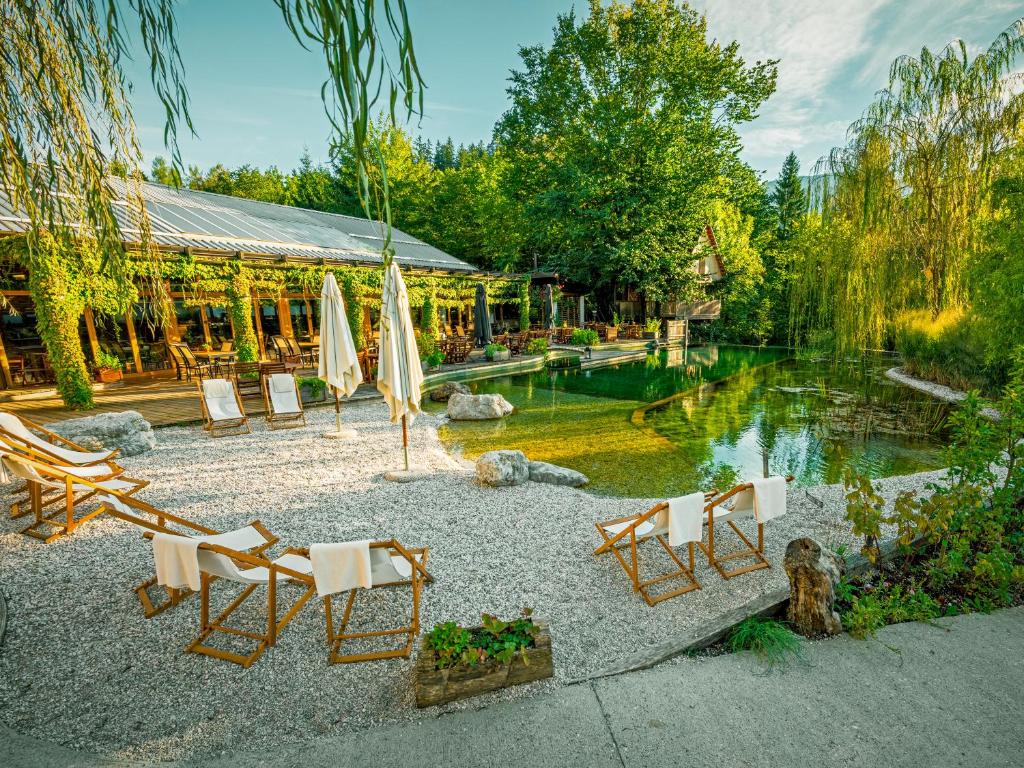 Courtesy of Garden Village Bled, booking.com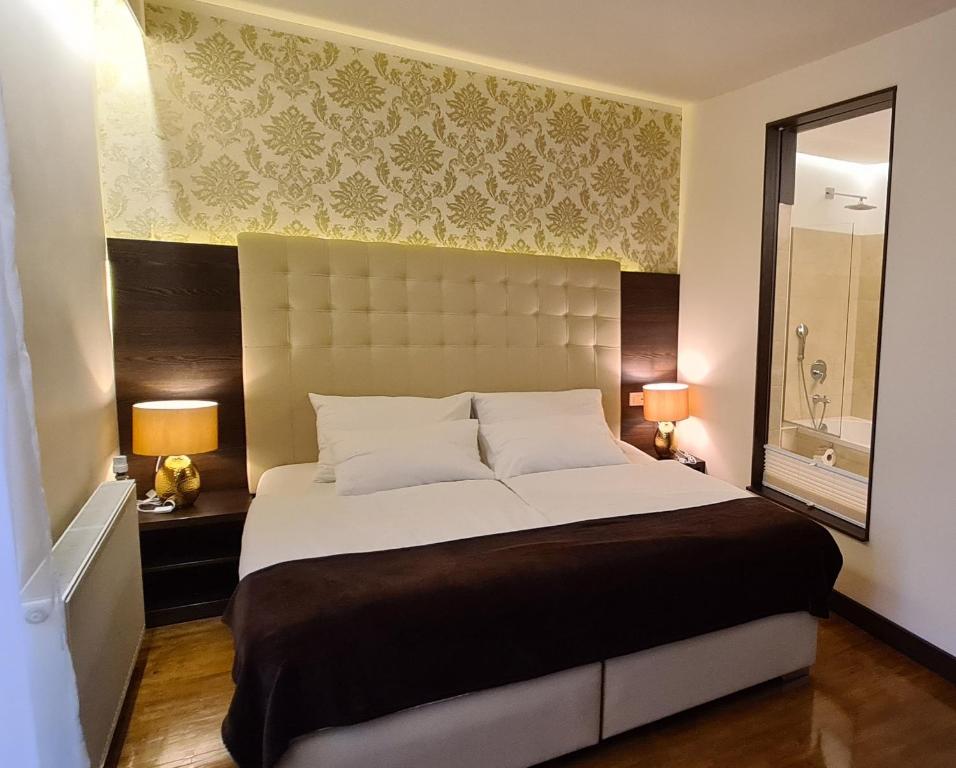 Courtesy of PR Klaudiji Guest House, booking.com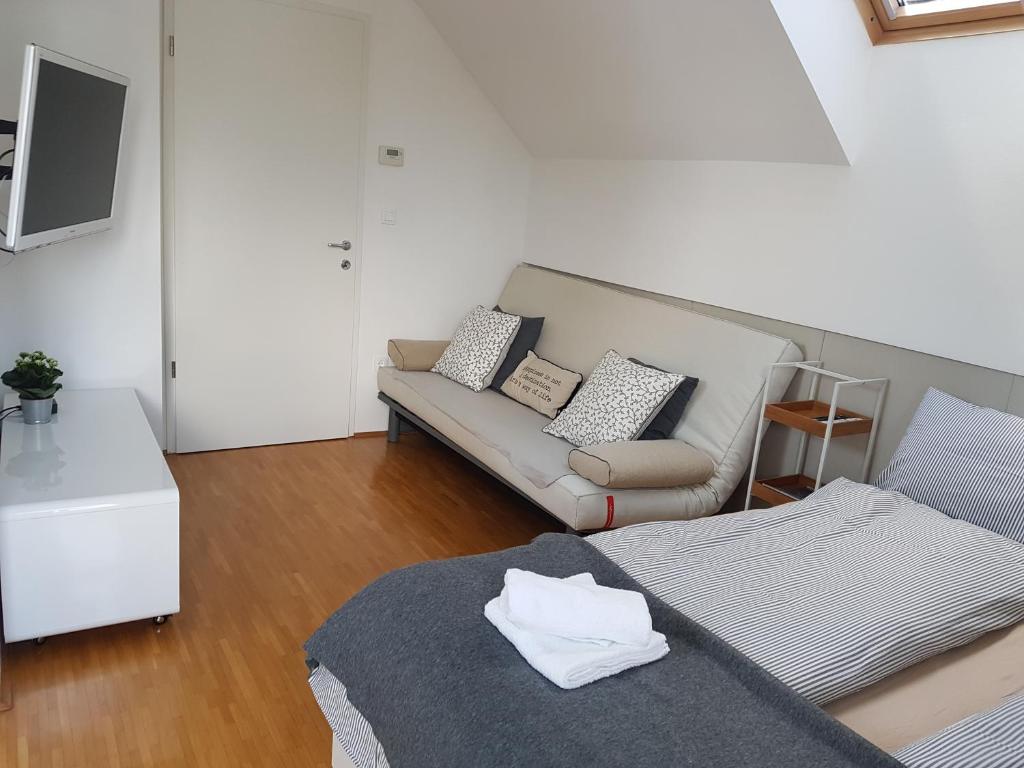 Courtesy of Studio No.14 Bled, booking.com